The Shimmering Frontier update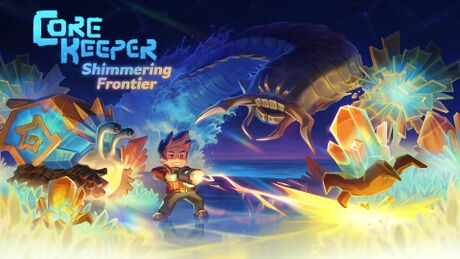 The Shimmering Frontier is a major update of the game. It was released in October 4, 2023, 9 AM UTC. The game was updated to version 0.7.0.0. You can read the full patch notes here.
This page lists all major addition, which may not be exhaustive, and will not be updated retroactively if these content were to be updated in the future.
Major changes and features
[
edit
]
Full patch notes: Version 0.7.0.0-2cab
New biome: The Shimmering Frontier. The Shimmering Frontier can be found in any direction, at least 1200 tiles away from the Core.
Atlantean Worm boss: Confront the aquatic leviathan in The Sunken Sea, approximately 800-1000 tiles away from the Core.
New types of challenging events can be found in The Shimmering Frontier. Complete them and be rewarded!
Upgrade Station. Crafted at the Scarlet Workbench, this station allows players to upgrade the item level of equipment, tools, and weapons making them stronger. This allows players to use a much larger variety of equipment setups, as lower-level items can become competitive with late-game items, but at a cost of upgrading them.
Over 50 new pieces of equipment!
Enemies
[
edit
]
Equipments
[
edit
]
Melee weapons
[
edit
]
Sprite
Name
Lvl
Damage
APS
Durability
Effects
Solarite Sword
16
223-271
2.5
350
+7% critical hit chance
+4.2% melee attack speed
Atlantean Worm Sword
17
239-291
2.5
500
+17% damage against bosses
+4 life on melee hit
Crystal Shard Club
16
278-338
2
350
+50% knockback chance
Secondary use: Trailing Crystals
Rusty Dagger
3
44-52
3.3
200
+5% critical hit chance
Iron Halberd
7
104-126
2.5
350
+4% critical hit chance
Secondary use: Charged Thrust
Range weapons
[
edit
]
Sprite
Name
Lvl
Damage
APS
Durability
Effects
Sticky Stick
4
72-86
1
150
Reduces the target's movement speed by 32.1% for 4 sec
Wood Crossbow
2
43-51
1
250
Secondary use: Piercing Shot
Scarlet Crossbow
9
142-172
1
300
Secondary use: Piercing Shot
Solarite Crossbow
16
209-255
1.4
250
+7% critical hit chance
+18% range damage
Secondary use: Piercing Shot
Ricochet Shuriken
16
85-103
2.5
350
+4.2% range attack speed
+22% critical hit damage
Secondary use: Piercing Shot
Chest armor
[
edit
]
Lantern
[
edit
]
Sprite
Name
Lvl
Effects
Pearl Lantern
12
+5 blue glow
+7% movement speed
+6.3% melee and range attack speed
Off-hand
[
edit
]
Sprite
Name
Lvl
Effects
Iron Shield
7
+14 max health
+12 armor
Off-hand use: Shield yourself and reduce any incoming damage by 70%
Pet Rock
16
+14% effectiveness of your pets talent effects
Necklace
[
edit
]
Consumables
[
edit
]
Sprite
Name
Can be cooked
Effects
Effects when cooked
Unusual Potion
False
+40% damage for 30 sec
+40% damage taken for 30 sec
Kelp Dumpling
False
+21 food
+15% chance to get double fish when catching a fish for 5 min
+15% extra harvest chance for 5 min
Crystal Kelp
False
+1 food
Lunar Cheese
False
+14 food
+5 blue glow for 5 min
Snare and stun durations reduced by +32% for 5 min
Atlantean Worm Heart
True
+14 food
+9.5 health every sec for 20 sec
+100 max health
+27 food
+20 health every sec to you and all nearby allies for 20 sec
+100 max health
Sunrice
True
+7 food
+13 food
+4 glow for 5 min
+16% damage against bosses for 5 min
Lunacorn
True
+6 food
+13 food
+4 blue glow for 5 min
+14% reduced damage taken from bosses for 5 min
Golden Sunrice
True
+7 food
+13 food
+4 glow for 5 min
+20% damage against bosses for 5 min
+11.4% melee and range attack speed for 5 min
Golden Lunacorn
True
+7 food
+14 food
+4 blue glow for 5 min
+16% reduced damage taken from bosses for 5 min
+10% dodge chance for 5 min
Beryll Angle Fish
True
+10 food
+7.5 health every sec for 20 sec
+20 food
+136 max health for 5 min
Glistening Deepstalker
True
+10 food
+20 food
+13% dodge chance for 5 min
+27.2% movement speed for 1 min
Cosmic Form
True
+9 food
+8.2 health every sec for 20 sec
+18 food
+30.9% damage dealt by your pet for 5 min
Jasper Angle Fish
True
+9 food
+8.5 health every sec for 20 sec
+19 food
+96 max health for 5 min
+45 armor for 5 min
Splendid Deepstalker
True
+10 food
+20 food
+10% dodge chance for 5 min
+21.2% movement speed for 1 min
+6.2% melee and range attack speed for 5 min
Creatures
[
edit
]
Crafting & Resources
[
edit
]
Valuables & Figurines
[
edit
]