Biomes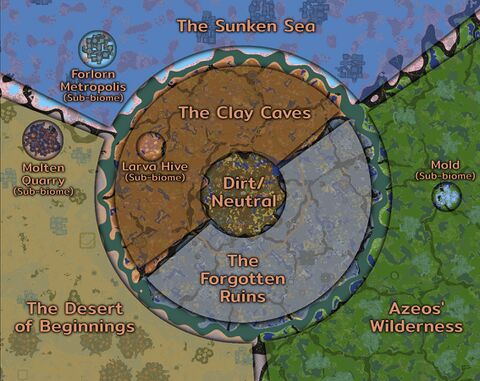 Biomes are geometrically defined areas of a world with distinct terrain and object types, scenes, loot, fish catches, enemy spawns, native bosses and many sub-biome dungeons within them.
The Dirt Biome, with The Core at its centre, is the starting area and is always at the centre of a world. It effectively extends into the neutral border zones between the progressively more challenging biomes. Biome angular positions, and order of the outer biomes, are randomised on creation of a new world.
The inner biomes are obvious finite. But the three outer biomes are theoretically unlimited in size, with dynamic world generation creating more chunks as players move.
The Great Wall is an unbreakable wavy structure that initially surrounds the three inner biomes. The Wall occupies the gap from 450 to 520 tiles and gates access to the outer biomes, in Game Progression.
Inner biomes
[
edit
]
Outer biomes
[
edit
]